As your skin ages, it loses its smooth, homogeneous color and becomes wrinkled. Ultraviolet light (sun) exposure and environmental toxins (cigarette smoke) cause the skin to wrinkle and develop age spots (lentigenes) and broken capillaries (telangiectasias). To improve aging skin, lasers can be very effective in restoring a smooth and even color to the skin and can improve superficial lines and wrinkles.
Palomar Star Lux Intense Pulsed Light™ device (IPL™/Fotofacial™)
Technically not a laser, this device emits a broad spectrum of light rather than a specific wavelength. The broad light spectrum makes is very effective for improving the color and texture of the skin. It is very effective for red discoloration of the skin and has been proven to improve pore size. However, it is not very effective in improving wrinkles. The IPL™ treatments can be intensified by adding levulinic acid (Levulan®) in a process know as photodynamic therapy (PDT). The Levulan® makes the skin more receptive to the light source, which makes each treatment more effective, but there is increased redness with this approach.
BBL™ BroadBand Light
BBL BroadBand Light technology utilizes the power of pulsed light to deliver excellent phototherapy results. By selecting the appropriate wavelength or filter, the physician will be able to treat a broad range of skin conditions caused by skin aging and sun exposure. The light energy delivered by the BBL gently heats the upper layers of the skin. The heat absorbed by the targeted areas coagulates tissue to variable depth. This process helps restore the skin to its natural stage. In addition, the photothermal energy targets and eliminates many of the fine vessels that cause redness and the unwanted melanin responsible for pigmented lesions.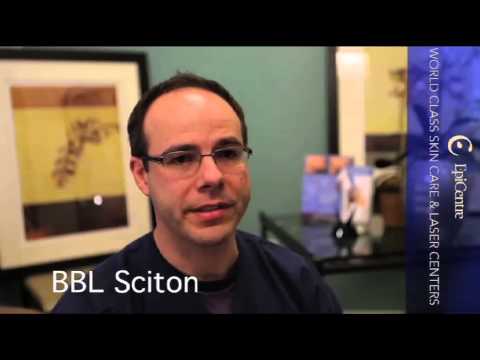 Though results may vary, clinical studies show noticeable reduction in wrinkles and fine lines. Patients also frequently report "younger looking skin" and a "radiant glow" after treatment. Clinical studies highlights include:
Visibly illuminated skin tone
Renewed, ultra-soft and smoother texture
Naturally radiant and glowing skin
Improved tone, texture and radiance
Reduction in the appearance of pores
Visit our IPL/Fotofacial page for more information.
Fraxel®Re:Store Dual (fractional photothermolysis)
This laser spans the gap between nonablative (minimally effective with quick recovery) and ablative (maximally effective with a long recovery) lasers. It works by using an Erbium fiber laser to make tiny holes in the skin (leaving untreated skin between the holes). About 25-45 percent of the skin is resurfaced at a time. The benefit is that there is minimal recovery (two to four days of redness and swelling) compared to more aggressive treatments such as ablative lasers (10 days to two weeks). Fraxel® Re:Store Dual will improve the color and consistency of the skin, especially brown discoloration. If used in a more aggressive fashion, and with an increased recovery period, it can improve fine lines and wrinkles. An added benefit of this laser is that it can be used in locations other than the face, including the neck, chest, and hands.
Visit our Fraxel page for more information.
Sciton Microlaserpeel:
Visit our IPL/Fotofacial page and www.sciton.com  for more information.
Sciton Erbium
Only our experienced surgeons use this laser for resurfacing of the face. The Erbium laser is very specifically tuned for water in the skin and precisely removes skin down to a deep layer, which heals over 10 days. The resulting new skin is dramatically improved both in terms of color and wrinkles. The Erbium laser is much more specific for water in the skin than the CO2 laser. With the Erbium laser, there is dramatically less heating of the skin, making it a more "gentle" laser. This results in fewer problems with pigment changes in the skin after laser treatment and the redness of the skin resolves much sooner than with CO2.