EpiCentre Park Lane and Dr. A. Jay Burns were chosen as an investigational center in Dallas for CoolSculpting, a non-invasive cold exposure treatment that results in fat reduction.
"The Cool Way to Reduce Fat"
Take a look at our own Holly demonstrating CoolSculpting on a patient!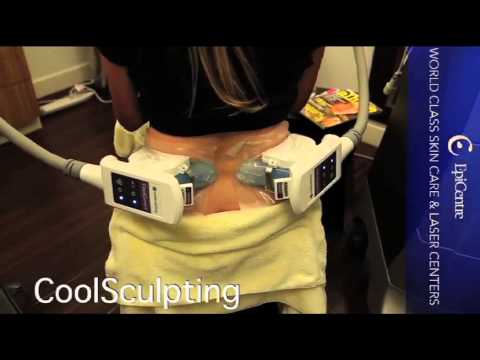 Click below for a quick 30 second video describing this exciting technology!
CoolSculptingAnimation_IC0300-A-1
The CoolSculpting treatment is a new, non-invasive way to gently and effectively reduce fat in targeted areas of your body, resulting in noticeable, natural-looking fat reduction in the treated areas.  What makes the CoolSculpting Procedure different is its advanced cooling technology that targets and eliminates fat cells. CoolSculpting is non-invasive with no needles and no incisions.  There is no need for anesthesia or pain medication and there is no recovery time.
For more information, read our blog post on Commonly Asked Questions about CoolSculpting.
Introducing the Liposonix® Treatment
1 treatment | 1 hour | 1 size smaller™
LOOK AS GOOD AS YOU FEEL
Have you noticed that extra love handle or muffin top peeking out of the top of your pants? In your busy schedule, it can be hard to find time to keep up a fitness routine. Whether you exercise a little, a lot, or not at all, you want to look your best. Sometimes diet and exercise are just not enough to get the shape you want. When you can't seem to get rid of that last little bit of fat, the Liposonix treatment can help.
The Liposonix treatment is a non-surgical fat reduction procedure that can get rid of targeted fat around your waistline. The treatment is completed in just one office visit and lasts about one hour. With little to no downtime or aftercare, you can resume your active lifestyle right away.
Feel like your sexy self again – without surgery.
TANGIBLE RESULTS THAT FIT YOU
Liposonix uses advanced ultrasound technology to permanently destroy unwanted abdominal fat.
Targets the stubborn fat around your waistline
Noticeable results after just one treatment
Customizable to address specific "problem" areas
Non-surgical with little to no downtime
Backed by over 10 years of research and testing